Mr. K of Hyogo Prefecture

CLAIR Misono
Completed in January 2010
An Apartment Packed with What I Dreamed of When I Lived in Rental Housing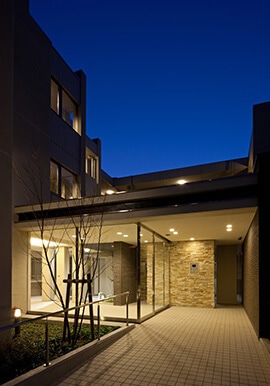 A warm entrance

'Since I'm going to all this effort to build something, I want to make it great': this was the thought at the very root of this project. I was striving to bring the ideal apartment, based on my personal experience living in rental apartments. Takamatsu Corporation understood what I was aiming for and provided a range of different proposals. They understood that I wanted an apartment which would make my day-to-day life happier over the long term, even a full decade or two down the road.
Takamatsu Corporation showed me some actual living facilities in their showroom, and in the end everything they chose was well-designed, which made me happy. They even installed a ventilation system that uses filters to clean intake air, resulting in a more comfortable living environment.
Various trees were planted all over the site, and they bring joy to everyone who lays their eyes on them. The plan I chose, proposed by the company, was just the kind of place I had been seeking—a place where anyone would love to live.
In consideration of the surrounding location, we proposed a spacious three-story building. I think that you can see the emphasis on good design, which is apparent in the beauty of the common spaces as well as the color schemes of the rooms and the nameplate at the entrance. Furthermore, we take advantage of the synergy achieved through home design utilizing all-electric systems that use no flames combined with a ventilation system designed to promote better health, which ultimately enables a more comfortable living environment.
Sales representative: Nakasugi

An entrance pathway with an abundance of greenery

Planted area reminiscent of a Japanese garden