Mr. T of Osaka Prefecture

Villa Yodogawa
Completed in 2011
Great Structure and Engineering Expertise Are Prerequisites to Withstanding Natural Disasters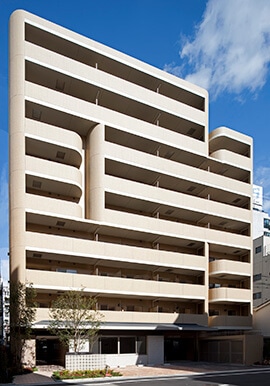 Exterior of Villa Yodogawa

I built an apartment complex with one-bedroom units for single residents just across the road from Villa Yodogawa. I wanted to have strong earthquake-resistance and durability as well as all-electric systems, which is why I chose the same design specifications as Villa Yodogawa.
I have worked on a lot of rental properties in my line of work, and I can safely say that the scariest thing for an owner is natural disasters and fires. In many cases, fires are caused by carelessness or oversight, so I think adopting all-electric systems that don't use flame is effective in reducing risk. This has the added benefit of reducing utility costs for residents as well.
When choosing a construction company, I was looking for one that could provide all-electric systems and a strong building structure capable of withstanding natural disasters—I wanted an organization with the technologies and expertise to achieve these. My goal was to provide an apartment building where residents could live with peace of mind.
While the area around Juso Station has many apartments for those living by themselves, as the owner's first building, he also decided to build one bedroom apartments, and it was steadily occupied with tenants. However, this also means that there were few apartments in the area targeting newlyweds and young couples, so he decided to target that demographic.
The pathway up to the entrance as well as the entrance of the two adjacent buildings has a unified design, and this produces a space with a sense of community. This artistic, gentle design is popular among women, and it has become a apartment where its residents can live care free. I am happy that the owner is very satisfied with what we did.
Sales representative: Tanaka

An elegant, curved entrance pathway

View from the entrance