Mr. A of Chiba Prefecture

Rain Palace E-1
Completed in March 2014
Business Transformation and Full-Occupancy Management through a Relationship Established from Enthusiastic Visits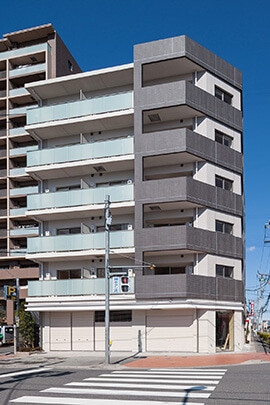 Exterior of Rain Palace E-1

Taking over the bookstore that my predecessor had run, I moved from Saitama to Chiba in 1980 and opened a book and stationery store. Ever since the store opened, it has been used by locals as a store with its roots firmly placed in the community. The population of the area has also increased dramatically due to the reorganization of the area around the station and the opening of the Tsukuba Express Line. As a result, business at the store has also been prosperous.
However, the environment surrounding the industry has changed together with the economic downturn, and gradually it became difficult to maintain sales. I therefore began to think about whether I could continue like this. What's more is that just as I began to be concerned about age-related deterioration of the building, the Great East Japan Earthquake struck. My store was severely damaged, and I began to fully consider transforming my business.
Meanwhile, when I consulted Takamatsu Corporation, who had visited me enthusiastically for some time, they kindly considered my situation and I received a proposal for apartment with a store. Participating in tours of project sites, I realized that this is a company that is seriously engaged in monozukuri. The proposed plan was that the apartment part would be batch leased by the group company, Nihon Kensho, and to attract a convenience store to occupy the 1st floor store part of the premises. I was impressed by the fact that the proposal offered a stable income from the planning stage and also had a stable future.
I was able to make the decision to transform my business with peace of mind. All units in the apartment were occupied shortly after completion. The management of Nihon Kensho* was good, and the property has been well received by residents and neighbors. The relationship with Takamatsu Corporation led to me being able to run a stable business, and my whole family is delighted that I made the decision to transform my business.
*Nihon Kensho Co., Ltd. changed its name to Takamatsu Estate Co., Ltd. on April 1, 2017.
At the time I was inexperienced with it being my second year since joining the company, but the owner was always friendly and stayed in touch with me. I therefore worked as hard as could to be able to return the favor.
We received great praise for bringing to life the ideas of the head of the household, who was the brain behind the varied layout that is characteristic of this building, and his wife, who was responsible for the coloring of the interior and exterior, as well as for our custom design, unique to Takamatsu Corporation, that all came together to build a truly unique property that our client can pass onto the next generation through their daughters.
Sales representative: Haruyama

Rental apartment with a new store

Store before rebuilding

An impressionable entrance with a red nameplate