Togu Corporation

Higashi-Osaka Logistics Center
Completed in April 2015
A warehouse in harmony with the townscape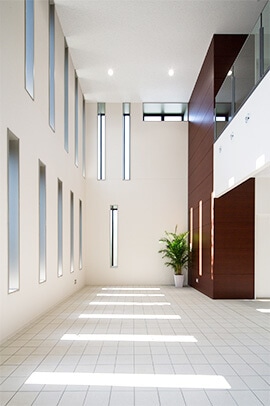 Entrance

We specialize in product pop up advertisements and advertising panels that are often found in retail stores such as home electronics retailers and pharmacies. As well as producing such sales promotion tools, we also manufacture and sell parts for pop up advertisements.
In order to make the most of our unique strengths of being able to propose complete in-store branding, we launched a plan to relocate the factory and increase the floor size. We got to know Takamatsu Corporation for the first time during their presentation. What impressed us was the quality of the teamwork. Information was shared properly, and in their style of everyone working together to proceed with the job, we felt a sense of reliability that was as if to say, "You can leave this to us." We therefore made the decision to request Takamatsu Corporation to undertake this work for us.
The teachings of our founders—to cherish partnerships over all else—have been firmly established throughout our organization. Because advertising determines corporate image, it is just as important as the building. We thought that Takamatsu Corporation, who share a similar philosophy towards work, would surely appreciate what we deem important and bring it to life in the form of a building.
As the rebuilding site is a residential area, a building typical of a factory design would stand out like a sore thumb. This is why we asked for a design that was in harmony with the surroundings. We have to say, however, that the completed building was beyond our expectations.
By matching the factory building's height with the heights of surrounding buildings and implementing a simple design, we were able to avoid an imposing impression. The exterior walls use metal paneling to achieve a stylish appearance, and many people—both customers and casual passersby—comment on the building, praising its attractive look.
In addition to actively incorporating solar panels and rainwater storage tanks, we also have a storage warehouse in preparation of any disasters to be able to assist the local community.
The new factory has boosted the pride and motivation of our employees. Designed with careful consideration for environmental protection and disaster prevention, it contributes to the local community as well. It is an embodiment of our corporate philosophy: "For people, for society, for the future." Moving forward, we plan to continue serving as leaders in pursuit of new innovations, which helps us to reflect the wishes and potential of locals and thus make them happier. This is our ultimate goal.
We thoroughly explained our proposed building concept along with our ideas which are based on a wide range of past experience, after which we drew up factory design plans together with the owner.
We were consequently able to turn disaster prevention, local contribution, functionality, and design, which were all features that had been requested by the client, into a reality with great success.
At the ceremony to commemorate the completion of construction that was attended by many guests, I was extremely happy when Togu President Mr. Shimizu said, "This is a building beyond expectations. I'm really glad we choose Takamatsu Corporation as a partner!"
Sales representative: Kimoto

Employee and service entrance side (Exterior)

Roof and solar panels

Packing space