Projects
Unique Proposals Based on Knowledge and
Expertise That Go Above and Beyond
Our goal is to embody our clients' vision in our work down to the detail delivering an ideal and unique product for our clients.
We propose plans tailored exclusively to each client by making use of our knowledge and expertise
with originality developed from our history of designs.
Interview

We start the process with an accurate understanding of the needs of our client and their for the project.
Planning Proposal

Based on the interview, we develop professional sketches reflecting our client's imagination.
Consulting

To create a facility that fully addresses all customer needs, we set specific goals based on your building requirements and formulate a plan to meet those goals.
Planning Design

We take into consideration all possibilities and draw up the concepts and ideas that form the core of the product.
Basic Design

We convert a concept into detailed space plans. Outlines include ease of use and grades, etc.
Final Design

We verify suitability for placements of all facilities and spaces then we turn detailed concepts into drawings.
Construction

Our construction management specialists take responsibility for the management of all construction activities, which includes the submission of applications based on various laws and ordinances.
Management

Ensuring true value in all building functions is part of our job. We build with changing times in mind to ensure continued value over the long term.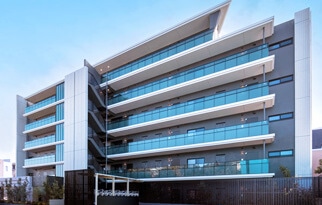 Apartment Construction / Apartment Management
In addition to traditional apartments, we propose and build dormitories made using apartment-construction technologies.
We are also experienced in apartment buildings that incorporate commercial shops, offices and other facilities into the overall structure.
We build office properties that integrate functionality, design, and comfort by taking into account our client's business and originality.
Construction plan requirements vary based on the project site. Here at Takamatsu Corporation, we propose unique and creative approaches optimized to said site-related factors.
Industrial and Distribution Centers

Our industrial-construction proposals offer high functionality while also achieving comfortable, pleasant facilities that keep worker motivation high, while considering operating efficiency and safety.
Hospitals and Medical Facilities

We hold detailed discussions with personnel in each medical division with the aim of producing an excellent facility in terms of furniture and fixtures, patient flow functionality, and design.
Retirement Homes

We protect residents with first-class building technology to withstand to earthquakes and fire with durability in mind. We ensure our home provide a safe and relaxing home-like environment.
Stores and Shops

Taking into consideration everything from retail space, storage facility and kitchen placement interior design, we plan and construct buildings that are comfortable for every users.