Choei Corporation

YUTAKA -Apartment Hotel KYOTO NIJO YUTAKA-
Opened March 2018, wall-type RC structure, 4-story
We design all guestrooms as suites in order to give every customer the best experience possible.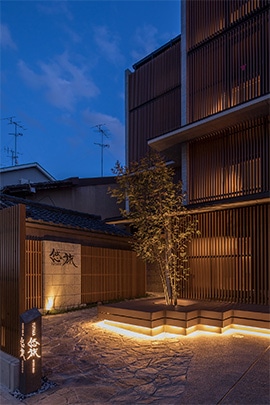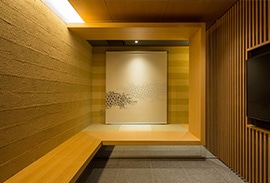 Front garden at night / Lounge area

The successful experience with our short-stay apartment that we used to run was the catalyst for Takamatsu Corporation to work on this hotel. We established a 70-square-meter large suite room on the top floor under the concept of a traditional townhouse combined with a Bali-inspired style. It was an exclusive short-stay apartment that was well received by guests from overseas as well as by wealthy Japanese senior citizens. We then considered whether we could make use of our experience to build a brand new hotel, and with their track record in accommodation facilities, we approached Takamatsu Corporation who made a variety of proposals to us from leasing land to buying and selling projects.
Initially, Takamatsu Corporation proposed a plan for 33 single rooms, each of about 20 something square meters, that could be converted from a hotel to a apartment in the future. However, we wanted a plan for a spacious area where families with children and multiple friends could stay together comfortably. We had a strong desire to provide rooms under a concept typical of Kyoto that would be great for overseas guests, and therefore we thought about creating hotel rooms. As a result, Takamatsu Corporation changed the plan to a high-end plan that could be expected to produce a profit by having 19 rooms that are all 50-square-meter suites. We were able to leave everything to Takamatsu Corporation with total peace of mind from attending site negotiations up to various procedures to receive a business permit to run a ryokan business.
Choei, a leading company in the Kyoto real estate management industry that purchases and owns its own apartment, was searching for a hotel site on this occasion. In the vast collection of information on land and buildings brought in from other companies, we also provided information that we had collected on land for sale and leased land.
Choei has experience converting short-stay apartment facilities into hotels, but this was their first time building a new hotel from scratch. In addition to construction operations, Takamatsu Corporation is a consulting firm, so we were able to help Choei find land in a suitable area, assist with land-purchasing negotiations, and help them apply for a ryokan lodging facility operator's permit.
We offered advice on the hotel architecture and provided total support for the business permit procedure for the ryokan business after building completion. We consequently received high praise from the customer who said, "We were able to leave everything to Takamatsu Corporation with absolute peace of mind."
Sales representative: Watanabe

Room entrance

Sitting area

Bedroom